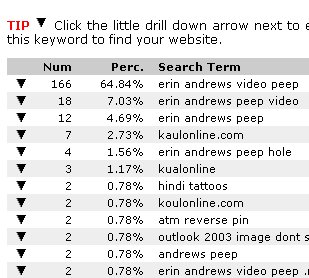 I can't believe "Erin Andrews Video Peep" is still on the top of Google Trends in the US. Its hotness is still "volcanic" on Google-Trends hotness range. It has been moving up and down between first and fourth positions over last three days, and I think it is disgusting. How can so many people be after a peepshow, when there is otherwise so much porn over the internet? In my defense, I have not been looking for the video, but I have been checking Google trends, and also the webstats for my last post on the subject, and I am enjoying it. At both places, Erin Andrews Video Peep is the top search query. I have been clicking on some top results on the Google Trends page, and I did stumble upon stills from the peep show on nypost.com. If that is what you came here looking for, here is the link: ESPN Hottie Erin Andrews in Peep Shocker
Since I am sticking to my story of not searching directly for the video or pictures, I guess I must be living in a monastery, because that is what David Whitley accuses people like me of doing in his excellent post Everyone Deserves Blame for Erin Andrews Video Fiasco at fanhouse.com:
…My guess is you were, too. If not, I commend you and hope things are going well at the monastery.
In his post, David Whitley is pooh-poohing everyone involved in this fiasco, started from the person who shot the video to the billions who are looking for the video. Well, all I am doing here is trying to generate traffic to my fledgling site, and I have been successful to a large extent.
Related Posts: Erin Andrews