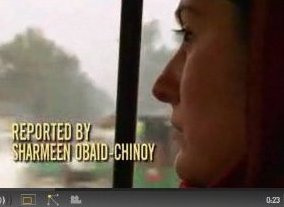 Just watched the PBS documentary "Pakistan: Children of the Taliban". The situation in the region is really really scary. While I follow a lot of the news from the region these days, this perspective from Sharmeen Obaid-Chinoy was somewhat of an eye-opener. While the players were no less important, the star of the show was definitely the presenter — Sharmeen Obaid-Chinoy, the 30-year old Pakistan born journalist who seems to have risked a lot to cover stories from world's major trouble spots. It is a shame that today is the first day I heard about this amazing journalist. The following from an article on Stanford University's Alumni website gives an idea of who Sharmeen is:
Although Obaid-Chinoy lived for some years in Toronto with her businessman husband, Fahd Chinoy, they moved back to Pakistan this year and she travels on a Pakistani passport. As a result, she often gets what she calls "interesting" questions from customs officials. "When you have a passport with stamps from Iraq, Syria, Iran and Saudi Arabia, you get a lot of, 'Really, are you a journalist?' Because how many women do you come across from my part of the world who do what I do?" Obaid-Chinoy's not-so-standard response? "I say, 'Just Google my name.'"
Since you got to this page, do watch the 36 minute documentary by clicking the above picture.