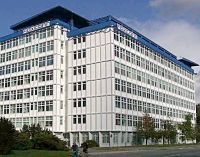 It is said that if you love sausage and respect the law, you should watch neither being made. Now here is something that will make you add your favorite Apple gadget to the list of your dear things that you would rather not watch being made. Actually, this applies not just to the Apple devices but most gadgets you use.
This story from This American Life on National Public Radio brings to light the conditions in the factory in China that makes most of the gadgets we use. According to Wikipedia, Foxconn manufactures products for most electronics companies – from Acer and Apple to Toshiba and Vizio. Do listen to this story. Download it to your Apple iPod and listen to it on your way to work, or wherever. But do listen. What is special about this story is the way it is told by a "worshipper belonging to the cult of the Mac". He uses innovative methods to get the story out of Foxconn, the enigmatic factory that makes "most of our crap", and where workers are treated such that "Week after week, worker after worker has been climbing all the way up to the tops of these enormous buildings and then throwing themselves off, killing themselves in a brutal and public manner, not thinking very much about just how bad this makes Foxconn look."

I strongly encourage you to listen to the story by clicking the "play" button above, but you can also read the transcript here, which is not the same as listening to the inimitable Mr. Mike Daisey.