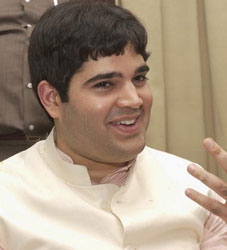 Besides being a permanent fixture on Indian television, the Varun Gandhi saga has grabbed the imagination of the desi Internet world like very few things have in recent times. Coming at election time, this is no surprise. What is surprising though is that the whole world has taken the genuineness of the controversial Varun Gandhi speech videos for granted.
People on the internet blogging, vlogging, twittering and commenting about Varun Gandhi can be broadly divided into two categories — those who hate him for his "speeches", and those who support him for them. If you hate BJP, you are in the former category, if you like it you are in the latter. The former are in a clear majority on the internet, wherever you look. What nobody is doing is unbiasedly questioning if the video footage is genuine. In Varun Gandhi's case, the Indian media has forgotten the use of the words "alleged" or "reported", words that are used even for hardcore criminals until they are convicted. They are obliged to beep out the word "Hindu", though, from his speeches because it is apparently considered communal. Laloo Yadav wanting to roll him over, Kapil Sibal being wishy washy over the application of NSA, Mayawati misusing a draconian law meant for terrorists, is all understandable. This is what they are supposed to do, and this is what they have always been doing. This is politics in election season, after all. But what has happened to the average netizen? What has happened to the mainstream media, which is supposed to be neutral? Why is everybody keen to outdo the other in behaving as if they were face to face with Varun Gandhi when he uttered those hateful words, when they clearly were not?
This blog post of mine is going to ask the questions that nobody has been asking. But first of all, a disclaimer: I do not believe Varun Gandhi is a saint. But then, neither are the people who are hell-bent upon destroying him. It is possible that he said all those dreadful things, but I also know that there are people out to get him, and many people had a vested interest in maligning him and putting him out of the scene — and that includes some very very powerful people… wink, wink. Even though I am a BJP supporter, I will be the first one to oppose him if it is found out that he was foolish enough to say all those things.
I start by annotating the following video from Star News Hindi. Please go through my annotations on this 2:50 minute long video, which has most of Varun Gandhi's reported "diatribe".
Many people think that a video like this cannot be doctored. Some people believe that there have been no instances in history that a video has been proven to be doctored. I am sure they are living in a pre-digital world — and I will answer their arguments in a separate post. In order to create a genuine and professional looking fake video, all you need is a video-editing software and a person who can copy the subject's voice to some extent. In India, both of these come a rupee a dozen. Yes, the lip movements may not sync in the fake videos, but neither does it in the more controversial portions of these videos. Mind you, I said these things are needed to create a "professional looking video". The videos that are doing the rounds don't even look professional. They look like the work of an amateur. Choppy videos, unconnected sentences, mismatching accent. To top it all, there is the so-called "professional reporting" from the news channels.
As you can see in the above video, all of the controversial words he has "said" are taken in a long shot. This is how the scene looks like when Varun is supposed to have said the "katua" word.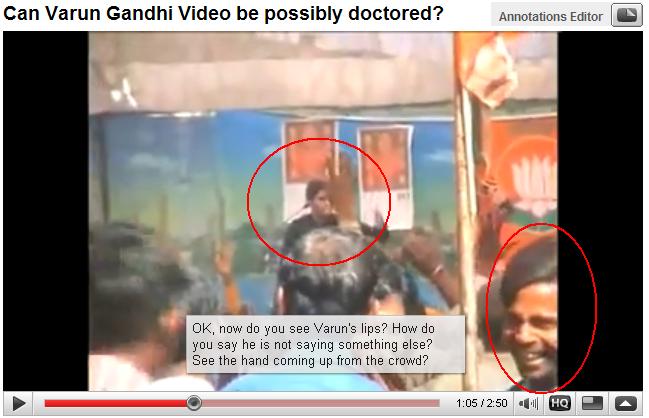 At the point where he is supposed to be talking about "scary Muslim names", even the accent changes to a dehati accent. Listen to it here. Is Varun Gandhi faking an accent there, or is it someone else's voice? There is no way to tell, because you cannot see the movement of his lips (see video above at 1:57), and the voice experts are waiting for a nod from Sonia Gandhi and Mayawati.
Anyway, here are some more questions:
1. Which TV channel/s does the video belong to? Why has no channel said, "it is our video, our correspondent was there, so Varun Gandhi's denials are meaningless"? I cannot imagine the speech was not covered by a major TV channel.
2. Why are all the channels rewinding and replaying footage from a single source, whose identity nobody is revealing? In today's anti-Varun world such a person would have become a hero, if they had nothing to hide. So why are they hiding?
3. Varun Gandhi was interviewed by major news networks and some established news reporters like Deepak Chaurasia of Star News, Navika Kumar of Times Now, a reporter from CNN-IBN etc. Why did the news networks not send someone who was at the original speech to confront him and interview him? Just look at the videos linked. Why were they nice while interviewing him, and are merciless while tearing him apart behind him?
4. The controversial speech was supposed to have taken place on March 5. Why was it not reported on the evening of March 5 or on March 6? If it did not create any communal disturbances on March 5, why did it suddenly become worthy of promulgating NSA 11 days later?
5. Vaiko's statements about LTTE, Lalu's statements about rolling Varun over, Sanjay Dutt's statements about his being ill-treated for having a Muslim mother, Mulayam's sexist statements about a lady officer in his constituency, were all reported my major TV channels on the day the statements were made, not days later. Why did that not happen in case of Varun Gandhi?
6. Why is there still no sign of a forensic analysis of the video, more than one month after the alleged speech? Who is sleeping over it? We were told that Varun refused to give a sample of his voice without a lawyer present. Who are they kidding? Are there no video- or audio-interviews of him in public domain, that are definitely his interviews by major TV channels – BBC, CNN-IBN, Star News?
7. Why have the news channels not interviewed even one eyewitness from Pilibhit who would say he/she was there when Varun Gandhi made those statements? On the other hand I have seen people being interviewed who would say they don't know about it because they weren't there. Then there is this report from Pilibhit that says he didn't say any such thing. Why don't such statements get reported on the "mainstream" media?
8. If the media and the government think that such speech causes communal disturbances and have locked up the "originator" of such speech, why is the speech itself being played over and over again? Is it to cause communal disturbances?
We seem to be in the midst of the biggest media scam of the decade. Just listen to the reporter talking in the video embedded above. Isn't his job just impartially reporting news, and not acting as if he was a BSP, SP or Congress spokesman? Where is the objectivity in this reporting? In each sentence he is exaggerating the reported "hate speech" with words like "kabristan", "murdon ka teela", "Bhasmaasur", etc. Don't these major channels know the difference between editorials and news reports?
Look at this video of NDTV's Barkha Dutt's "Buck stops here". In the beginning of the section, Varun's statements disowning the hate speech are shown on the screen. Fair enough, but then Barkha goes on to ignore that and talks about his "hate speech", while interviewing the panelists. Do we Indians not deserve a really impartial media? Do we have no choice other than the government run Doordarshan and an irresponsible private media? Do we have a media watchdog that should look over these things?
What do you think? Have your say. Read the comments on the Hindi version of this post too.


Follow up post
–
Read all posts on Varun Gandhi