I have not been watching American Idol regularly, but seeing desi kid Anoop Desai on the show had sparked some interest in me. Then in last week's episode, I turned the TV off when he was not one of the top twelve chosen. Turns out, moments later the judges had decided to make it a top-13 instead of a top-12 (video).
So, I watched the show again today. They were singing Michael Jackson hits today, and Anoop's choice of "Beat It" didn't cut it well with the judges. None of the four judges were kind to him. Paula Abdul called his song choice "bad", and Simon said "it was horrible". I thought he did a good job, and for the first time ever I voted for a TV show contestant. 1-866-IDOLS-08 (1-866-436-5708).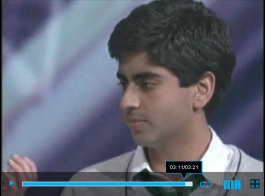 Let us see if he makes it to the next round. Good luck Anoop "Dog" Desai. Anoop may get saddled with the Dog suffix, because that makes his name rhyme with "Snoop Dogg". Also, AI judge Randy Jackson anyway likes to call the contestants "Dog" adoringly. May not sit so well with people in India though, where calling a person a dog will always be an insult.
With Idol going with the baker's dozen this time, another complicacy has happened. The thirteenth contestant's number 1-866-IDOLS-13 (1-866-436-5713) seems to have already been taken by a telephone porn company, according to this post on TMZ. American Idol was going to announce the alternate thirteenth number in tonight's episode, but I didn't watch the whole show.
The thirteen finalists at this time are Jasmine Murray, Megan Joy Corkrey, Matt Giraud, Anoop Desai, Alexis Grace, Michael Sarver, Danny Cokey, Lil Rounds, Jorge Nunez, Scott MacIntyre, Allison Iraheta, Adam Lambert, and Kris Allen. Let us see what happens tomorrow.
Update 11-Mar 10pm: Anoop made it through tonight.
Comments
comments