Congratulations to the team of Slumdog Millionaire for winning eight Academy Awards. Well, with all the hype that was built leading up to the Oscars, I think everyone expected it. Good job, but I don't understand why Anil Kapoor is jumping up and down. Yesterday, he was calling it an Indian movie, because "it was about the Indian people and had Indian people in it". Unless Anil Kapoor was doing some behind-the-scenes planning and direction while the movie was being made, something that the movie watching world is not aware of, Anil Kapoor didn't have a lot to do with the movie. His role in the movie, where he plays the host of "Who Wants to be a Millionaire" and asks a few questions of the film's protagonist, would have been described as a "guest appearance", if he had such a role in a Hindi movie. Well, he is a good Bollywood actor, he may be a great person too, but jumping on the Oscar bandwagon seems a little bit out of the line here. His may be a prettier face to put on the movie's publicity machine, and that may be the reason that Dev Patel and Freida Pinto are doing the rounds of TV and radio stations in the US too, but think about it — how much of a performance did Freida Pinto have in the movie?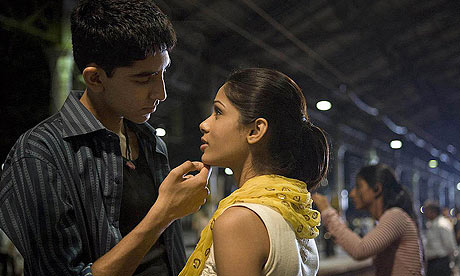 The "Indian" thing in Slumdog Millionaire needs to be put in perspective. Yes, two Indians (A.R. Rahman and Resul Pookutty) won Oscars this time, for their participation in a British film about India. That is all Indians need to be proud of. There is nothing else in or about Slumdog that Indians should gloat about.
There has to be something fundamentally different about the way Westerners see a movie and we Indians see it. I mean, even if we look at it from an outsider's point of view, did it really deserve these Oscars. Yes, Rahman is a great music composer. But, if "Jai Ho" is the best composition in the eyes of the world's most prestigious movie awards academy, then hundreds of Indian songs should be Oscar worthy. Then Oscars need to get the Rahman, rather than Rahman getting the Oscar, as a Rahman fan said on NDTV.
If you smell bitterness in my attitude, then perhaps you are right. I watched the movie before all the Golden Globe or Oscar hype began, and I came out of the theater with a bitter taste in my mouth. I did realize at that time that this was a well made movie, but so many Oscars?
On the other hand, I am not at all bitter that a mainstream Indian made movie never made it through the Oscars. I realize that India and the West follow different ways of making movies, different ways of watching movies, and only those Indian movies that match their palate will make it through their awards. It is their awards, their taste, so why should I complain that a gora didn't like my butter chicken or dum-aaloo. In any case, the only category Indian movies can make it to are the foreign language movie category — and the very few final nominations that Indian movies have managed in that category in its 81 year history (Mother India, Lagaan, anything else?) have drawn a blank. If one of those movies had won, that would have called for a celebration. But gloating over Slumdog or Gandhi winning Oscars just doesn't make sense.
—
Related articles (Hindi): Slumdog Millionaire Review, Box item on BBC review on Samayiki
Comments
comments