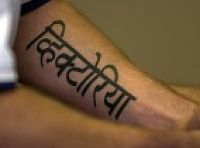 British soccer star David Beckham has his wife Victoria's name tattooed on his forearm. But it is spelt wrongly. I am not sure if the error is intentional, but it looks like "vhiktoria". So, if you have decided to get a Hindi tattoo, or are in the tattoo business, make sure you get a good translation or transliteration (as the case may be) for your planned tattoo.
If you have a Hindi tattoo question, ask it in the comment section of this blog post and I will answer your query for free in the same section as soon as possible. My answer will be in text form. You should copy the text to Wordpad, and increase font size to 20+ to see the image correctly. Make sure the font is "Mangal" or "Arial Unicode MS" or any other Unicode Devanagari font. It is your responsibility to have the correct font on your computer and to copy the text correctly. If possible, send me a picture of your tattoo and I will put it up here. For example, see the pictures of Hindi tattoos that readers of this blog got after asking for translation here.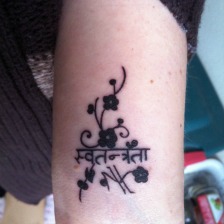 ___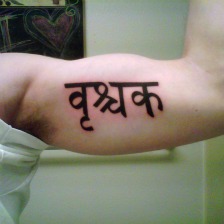 Caution about proper nouns like names: If it is a name you want transliterated to Hindi, let me know how you pronounce it, particularly if it is a name not common to English speakers. Hindi is written in a phonetic manner, so I must know how you pronounce it. After I give you the Hindi version, double check with somone who can read Hindi.
Please do not ask about translations in languages or scripts other than Hindi.
Important Disclaimer: This service is provided with no warranties and no acceptance of liabilities. While I will do my best to answer your query correctly, do verify it from another source before getting a tattoo.